NEW THIS YEAR: 2022

Midwest Electric is offering up to a $100 rebate to members who install a new smart thermostat in their home between July 1, 2022, and June 30, 2023.  Rebate may not exceed fifty percent (50%) of the thermostat unit cost (excluding tax and installation costs).
Requirements apply, including that the thermostat must be ENERGY-STAR certified and Wi-Fi connected. Call us for details or email jjohns@midwestrec.com. Max 2 thermostats per household. Only available to residential members and is dispersed via a bill credit.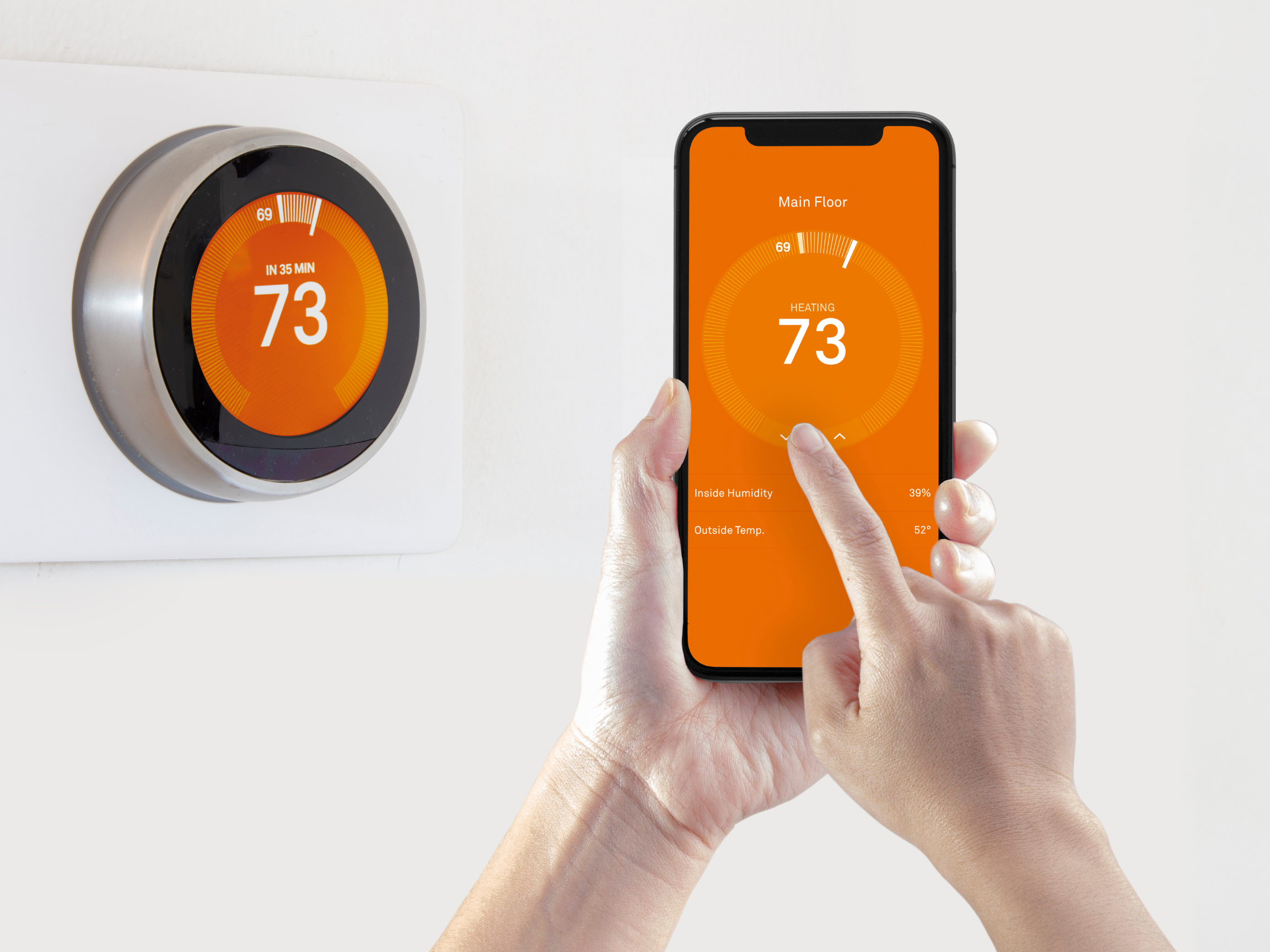 Smart thermostats allow you to program a set schedule of temperature changes, keeping your home comfortable and your energy bills low. They can be controlled through the thermostat's touch screen, a connected smartphone app, or other smart devices. But are you aware of these other cool things smart thermostats can do?
Save energy while you're away
The days of adjusting your thermostat before you leave and again when you return home are in the past. Smart thermostats can sense when no one is at home and change the temperature automatically to save energy and money.
 
Catch intruders
Your smart thermostat can connect to other smart devices, like security cameras. When the thermostat recognizes no one is at home, it can automatically tell the camera to start recording, catching any potential intruder red-handed.
 
Control the temperature with your voice
Smart speakers can connect with smart thermostats, allowing you to change the temperature settings with simple voice commands. Simply tell Amazon's Alexa or Google Assistant to raise or lower the temperature and you can enjoy a comfortable home.
 
Get out of bed easily
Temperature can affect how you sleep — and how easy it is to wake up. If you have a wearable fitness tracker that can connect to your smart thermostat, the tracker can trigger a temperature change once it knows you're awake. That'll make it easier to get out of bed on chilly mornings.
 
Prevent temperature tampering
Do you have kids at home who like to mess with the temperature settings? Set a PIN code to lock your smart thermostat, only allowing those who know it to use the touch screen and alter programs or other settings.

Take the hassle out of keeping your home comfortable by taking advantage of everything smart thermostats have to offer. Don't miss Midwest Electric's rebate to members who install a new smart thermostat in their home. See below for more details.
Effective Rebate Dates: July 1, 2022 through June 30, 2023.
Smart thermostat must be purchased and installed between July 1, 2022 and June 30, 2023. Application must be submitted to Midwest Electric no later than June 26, 2023. Units purchased prior to July 1, 2022 are not eligible.
Smart thermostat must be installed in a residential home which receives its electric power from Midwest Electric (the "Cooperative") and meet all other requirements of this program.
Rebate
Maximum of $100 will be paid for each new qualifying smart thermostat purchased and installed.  Rebate may not exceed fifty percent (50%) of the thermostat unit cost (excluding tax and installation costs).
A maximum of two rebates will be paid per consumer-member residence during the current program year. Rebate is limited - offer expires when funds are depleted on a first-come, first served basis, or when program is discontinued.
Requirements
Member-consumer must be homeowner of record for the residence.
Smart thermostat must be new and Energy Star® rated at the time of purchase and installation. See www.energystar.gov for current Energy Star® specifications.
The residential home where the smart thermostat is installed must have broadband/internet access.
Smart thermostat must be Wi-Fi connected.
Smart thermostat must be installed in compliance with the National Electric Code and local or Ohio Electric Code requirements. Qualifying thermostat may be installed by member-homeowner or a qualified installer.
All applications must be complete and include an itemized receipt (detailing cost breakout for all units, taxes, and/or labor purchased) and proof of Energy Star® listing through either a copy of the yellow Energy Guide label or the owner's manual.
The Cooperative reserves the right to inspect the smart thermostat and its installation and verify its eligibility for rebate. Misrepresentation or falsifying information voids application and member is deemed ineligible for rebate program. Reporting of false information may result in an obligation to reimburse the Cooperative for all damages or losses caused by such action, at the Cooperative's option.