Ways to Pay
Midwest Electric offers a number of convenient ways to pay your monthly bill. Choose what's best for your family, your business, your budget, and your lifestyle.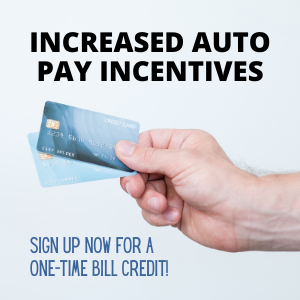 Our $10 bill credit for signing up for Auto Pay through a bank account is now a $15 one-time credit. Our $5 credit if it's Auto Pay with a credit/debit card is now a $10 one-time credit.
To qualify, it requires paperless billing, or e-bill. If you enroll via SmartHub, please call us to confirm the bill credit.
Have questions? Call 1-800-962-3830.
Smart Hub – the new e-bill
Click here to learn how to register for SmartHub.
Once registered, you can:
Receive texts or e-mails when your electric use exceeds your pre-set level
Report power outages through your smart phone, tablet or PC
Current access to your hourly electric meter data
View monthly, daily and hourly electric use charts
Compare electric use to previous months
View or pay your bill
Track historic usage by day of the week, and hour of the day…Track which days are highest (and lowest), and which hours are highest (and lowest)
Place "markers" on your charts to track home (energy) improvement upgrades and their impact on your electric use.
Note: Our e-bill site will not work properly with Internet Explorer 8 or lower.
Sign up for our E-Bill Plus program where you receive your electric bill only via e-mail and you use our Auto Pay option (either through your checking, savings or credit card account automatically each month):
Get a one-time $5 bill credit for enrolling
Help the environment by eliminating paper bills and mailed payments
Help us lower our costs by eliminating paper bills and postage
Help yourself save time and money by not having to bother
Call us today to enroll in E-Bill Plus: 1-800-962-3830
Save time and money by having your Midwest Electric bill automatically deducted from your checking or savings account or credit card account.
To sign up, call us at 1-800-962-3830, or you can do it yourself in our e-bill site. After logging in, go to Billing & Payments, then Auto Pay Accounts, then click the link to Sign Up For Auto Pay.
Each month you'll receive your electric bill showing you how many kilowatt hours you used and how much money will be transferred from your checking or savings account. The fund transfer will be itemized on the monthly bank statement that you receive from your financial institution. Your electric bill will say Bank Draft, Do Not Pay.
Use your checking account to pay your electric bill – either over the phone or through our website. You can call our customer service representative, and pay with your check over the phone. Or look for our e-bill link here on our website, and pay on-line using your checking account (or credit card).
We accept credit card payments for all charges incurred on your electric bill. We accept Master Card, Visa and Discover. We will accept your payment by credit card over the phone or in person at our St. Marys office, or online by clicking here. Our customer service representatives can also set up your account so that your electric bill is charged automatically to your credit card each month. For more information, call us at 1-800-962-3830.
You may use the handy return envelope provided with your electric bill to send us your payment.
Due to COVID-19 concerns, our office is closed to the public indefinitely starting March 17. Please use another bill payment option. 
Payments are accepted at all MoneyGram locations at no charge. MoneyGram has over 39,000 U.S. agent locations inside retailers like CVS/pharmacy, Advance America, Albertsons, Walmart and thousands more!
Bring these with you:
Cash – enough for your payment (Cash or debit card only.)
Your Midwest Electric Account Number
Receive Code: 15105
Complete the MoneyGram ExpressPayment® blue form, use the red MoneyGram phone or use the MoneyGram kiosk to complete your transaction. (Payment processes may vary depending on your location. Simply ask an associate for help.)
Click here to locate a MoneyGram location
For after-hours payments you may use the night deposit box located by the front door of the cooperative office. Please pay by check or money order in the night deposit. Envelopes are provided.
We encourage all of our customers to make an effort to pay their bill promptly to maintain a good credit standing. We realize, however, that unexpected personal or economic conditions may create a problem that prevents you from paying your bill on time. If this should happen, please contact our office as soon as possible. We will discuss payment options with you and guide you in seeking financial assistance, if needed.

For a list of payment assistance options, click here.