Annual Meeting & Co-op Board
Enjoy a great meal, good company, and participate in your co-op's democratic process.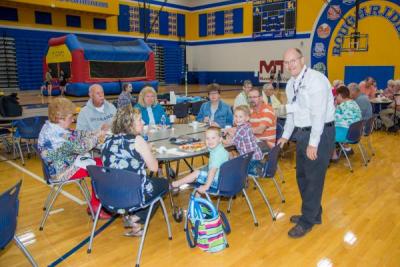 Midwest Electric's Annual Meeting is your chance to exercise your ownership rights and privileges in your cooperative. All members are invited. Best of all – the business meeting typically only lasts 45 minutes! Highlights include:
Trustee election results announced and results of voting of by-law changes, if applicable. (Voting is conducted prior to the meeting, by mail and online.)
Annual "State of the Cooperative" address by the CEO, Board President, and an executive from our power supply cooperative, Buckeye Power.
$3,000 in cash prizes.
Health Fair.
Free breakfast buffet.
Kids games, bounce houses, and more!
New $1,000 scholarship drawing, done entirely at the meeting and unrelated to our general scholarship program - the winner must be present to win and cannot have won a past scholarship from us.

Any Midwest Electric member is eligible who will be a college or trade school student in the fall of 2019. Members, or children of members, must enter at the annual meeting, where the winner will be drawn and must physically be attending to win. Money will be disbursed in Feb. 2020 following confirmation of college or trade school enrollment with a minimum 2.5 GPA. 
 
The Annual Meeting is typically the first Saturday in June at St. Marys High School. Registration and the free breakfast buffet start at 8:15 a.m. The business meeting starts at 9:15 a.m. Read Ohio Cooperative Living for more information and an RSVP card. Watch your mail in mid-May for your official ballot.

View the 2019 Annual Report here, as printed in May's issue of Ohio Cooperative Living magazine.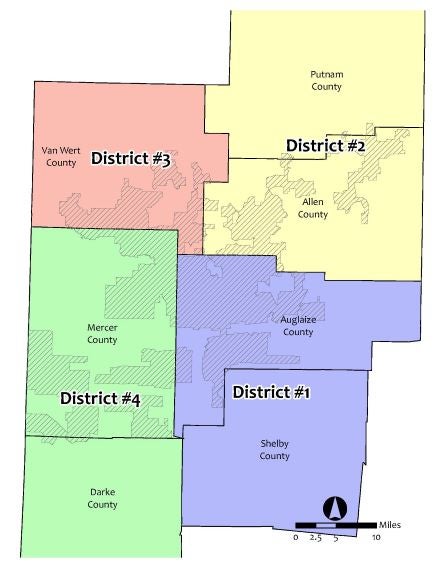 Midwest Electric is governed by a 9-member board of trustees, comprised of co-op members just like you. Any member residing in a district up for election (listed below) may become a candidate by obtaining a petition form from the co-op's office, and obtaining at least fifteen (15) valid signatures of members who reside within that district.
The Board meets monthly to review the financial and operating performance of your cooperative. They review reports from the manager/CEO and department managers and provide general direction for management decisions.
Other important issues – such as long-term planning and whether to change electric rates – are also acted upon by the Board. Candidates will need a commitment and a desire to always strive to do what is in the best long-term interest of the cooperative and its members.
Any member in the district up for election may be a candidate for the Midwest Electric Board of Trustees. Interested members must obtain a petition from our office and get at least 15 valid signatures of members who reside within the district.
Candidates must complete the official petition form. Petition forms typically are available in early spring. The properly completed petition must be filed in the co-op's office by 8 a.m., May 2. Call us for more information, or for a copy of the Code of Regulations.
Click here to see Midwest Electric's 2019 Code of Regulations and Articles of Incorporation.
At the Annual Meeting June 1, 2019, our members voted to pass proposed by-law changes recommended by the board.

The changes made are summarized here. 
Proposed Change:
Article IV — Directors
Section 3 — Qualifications
#1: Ammend item (a) as follows by adding the below bolded text:
(a) No person shall be eligible to become or remain a member of the Board who:
    (i) is not of legal age;
    (ii) is not a member and bona fide resident in the particular district within the service area of the Cooperative which he is to represent; or
    (iii) is in any way employed by or financially interested in a competing enterprise or a business selling electric power and/or energy, or supplies to the cooperative, or a business primarily engaged in selling electrical or plumbing appliances, fixtures or supplies to the members of the Cooperative. A member who has a distributed or renewable energy system primarily to offset their own facility use but may be selling limited overproduction to the cooperative is not excluded from serving on the Board.

Note: The current Code may restrict a member who has renewable generation from serving on the Board. The proposed change would allow such a member to serve on the Board. We believe this to be more fair to all our members.
#2: Add item (c) as follows by adding the below bolded text:
(c) No person shall be elected to or appointed as a member of the Board of Directors who is or has been during the preceding three years an employee of a statewide association of electric cooperatives, an electric generation and transmission cooperative, or other entity in which the cooperative is a member.

Note: The proposed change is an industry-recommended best practice that would prevent a conflict of interest.
HEADS UP: Ballot coming via mail soon!
Vote in January to amend the Code of Regulations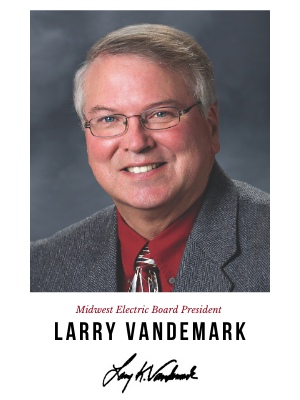 The Midwest Electric Board of Directors asks for your "YES" vote to support the proposed amendment  to the Cooperative's Code of Regulations. The proposed amendment is to remove the "at-large" position from the board of directors and reduce the size of the board by one director.

Why should I vote yes?

Reducing the size of the board will contain costs from training, travel, and per diems. Midwest Electric has been aggressively managing costs and improving operational efficiency. Other efficiencies include sharing employees with a neighboring co-op and implementing new technology. 

Reducing the size of the board would put Midwest Electric in line with other electric cooperatives across the U.S. There are 900 electric co-ops in the U.S., and Midwest Electric is smaller than the average co-op. Nationally, 38% of electric cooperatives have less than nine directors, 46% have nine directors, and 16% have more than nine directors. The overall national average is 8.5 directors.
Members' voting opportunities would not be limited by this amendment. All  members will still be represented by two directors from their district. As a co-op, Midwest Electric has always been governed by a board of directors elected from the membership (the consumers), by the membership.

The at-large position was elected to represent the entire membership, but it's not necessary because members already vote for directors in every district (county). In our annual elections, members already have the ability to vote in an "at-large sense, "meaning members can vote for each district (county) regardless of where the member lives. Members are not restricted to voting only for their district, so this does not limit a member's voting opportunity or their representation.

No director will lose their seat during this transition or as a result of this Code amendment. It would be effective after the current At-Large term ends (June 2020).

How will this be implemented?

This amendment to the co-op's Code of Regulations must first be approved by members. This will require a special vote prior to the annual meeting voting process.

Ballots will be mailed late December/early January, with voting ending on January 21, 2020. Online voting will also be available.
Results will be announced to members in the March 2020 Ohio Cooperative Living magazine and through other communications. 

From,
Larry Vandemark, Board President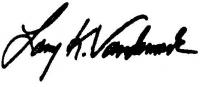 The proposed Code of Regulations amendment would read as follows:
 
Article IV Directors
Section 1.
Board of Directors.  All the capacity of this Cooperative and all its powers and authority, except as otherwise provided by law, shall be vested in and exercised by the Board of Directors who shall manage and conduct its business.  Such Board of Directors shall after June 6, 2020 consist of nine eight persons, comprised of two persons from each of the four districts located in the geographic area served by the Cooperative, to-wit:  District No. 1: Auglaize and Shelby Counties; District No. 2: Allen and Putnam Counties; District No. 3: Van Wert County; District No. 4: Mercer and Darke Counties. {The following verbiage is eliminated by this amendment: Also, one person as director-at-large, who shall hold office for one term of six years only and which office shall be rotated after expiration of each such term in numerical order among such four districts.}
(b)Tenure of Office.  Directors shall hold office immediately upon being elected thereto and shall hold office for a term of three (3) years or until their successors shall have been elected or appointed. {The following verbiage is eliminated by this amendment:  …except that the Director-at-large shall hold office immediately upon being elected thereto and shall hold office for a term of six (6) years or until the next election for Director-at-large pursuant to the rotation order prescribed in SECTION 1 of these Regulations.}