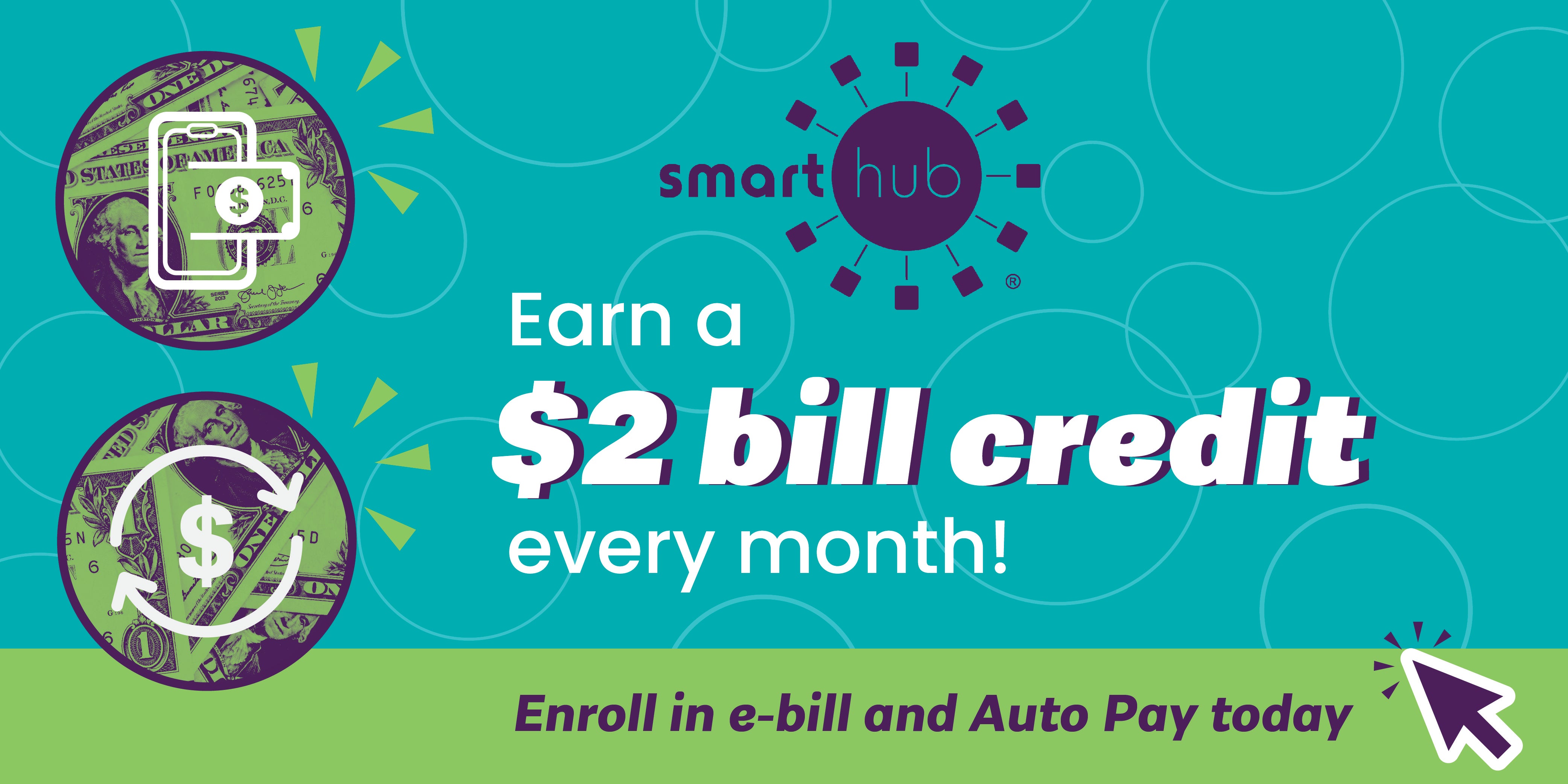 SEE BELOW TO LEARN HOW TO EARN YOUR MONTHLY $2 BILL CREDIT
SmartHub is Midwest Electric's free online bill payment system, which also allows you to report a power outage, receive outage notifications, and monitor your energy usage. If you are new to paying your bill online, you will need to create a SmartHub account; it's super easy, and if you run into any issues, our friendly staff will gladly assist you.
Our goal is to provide you with account access on demand for your mobile devices, tablets, and computers. Our software represents cutting-edge technology brought to you by your local electric co-op, created with our users in mind and with features to assist you in your busy life.
*Effective January 2022, new subscribers to Midwest Electric's SmartHub e-bill and Auto Pay features will receive a monthly $2 credit on their Midwest Electric bill ($1 credit for e-bill and $1 credit for Auto Pay). Should you unsubscribe to e-bill or Auto Pay, the credits will no longer apply. If you're already enrolled, you'll receive the monthly credit!
Benefits of Auto Pay:

Say goodbye to late fees!
You'll no longer have to worry about writing a check, paying for postage, or mailing out your payment. Plus, your payment is always on time. 
How to sign up for Auto Pay on the SmartHub website:
Click on the red "SmartHub Bill Pay" button at the top of the Midwest REC website
Log into SmartHub
Click on Billing & Payments
Click on Auto Pay Program
Click on Sign Up for Auto Pay and follow instructions
How to sign up for Auto Pay on the SmartHub app:
Open the SmartHub app from your mobile device
Log into SmartHub
Select Bill & Pay
Select Auto Pay Program and follow instructions
Benefits of e-bill:

When we save money, you save money!
Enrolling in e-bill will help save Midwest Electric money on postage and printing, which helps us pass savings onto you! Your bills and payment records are accessible on SmartHub – no more hard copies. 
How to sign up for e-bill on the SmartHub website:
Click on the red "SmartHub Bill Pay" button at the top of the Midwest REC website
Log into SmartHub
Click on My Profile
Click on Update My Paperless Settings.
Toggle "Paperless" switch to "ON"
How to sign up for e-bill on the SmartHub app:
Open the SmartHub app from your mobile device
Log into SmartHub
Select Settings
Select Paperless Billing
Toggle switch to the right to turn "ON"
Need help? Contact us by email (info@midwestrec.com), by phone (800-962-3830), or in person (M-F, 7:30 a.m. – 4:00 p.m.). 
SmartHub Basics
24-hour access to account(s)
Sends e-mail notifications when a new electric bill is generated
Special alerts (sign up and choose – via text, email, or mobile feed) including power outages and peak alerts
Pay bills electronically using Visa, MasterCard, or Discover card – or an electronic check transaction
Displays payment posting in real time
Provides current and historical billing information and payment history
View daily, monthly, and annual energy use in graphs you can analyze (and our energy advisor can review, if you'd like custom advice on lowering your bill)
Includes a free app for your smartphone or tablet. Download it by searching "SmartHub" in the app store and selecting "Midwest Electric Ohio" as the provider.
Allows you to enroll in Paperless Billing
Multiple accounts can pay with a single payment
Report power outages through your mobile device and stay up to date on estimated restoration time. This feature works especially well for members with multiple accounts.
Receive text or emails when your electric use exceeds your pre-set level
Current access to your hourly electric meter data
Track historic use by day of the week and hour of the day; Track which days are highest (and lowest) and which hours are highest (and lowest)
Place "markers" on your charts to track home (energy) improvement upgrades and their impact on your electric use
Click here for detailed steps on how to register for SmartHub, update payment options, and report outages (both on the website and mobile app).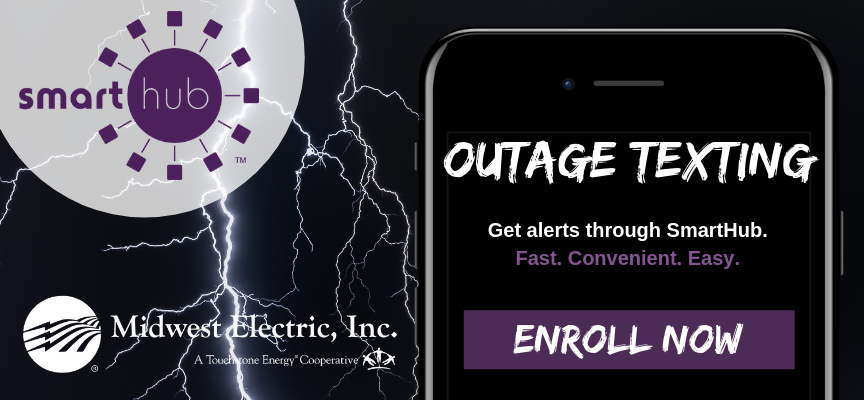 How to set up outage texting alerts...
Using the SmartHub mobile app:
Once logged in to the SmartHub app, click the "Settings" icon. Next, add an email and/or phone number(s) under "Manage Contact Information." Follow the instructions to verify each email and phone number added. A verification code will be sent to the contact method you choose. To make this process easier, be sure to have access to those accounts before you begin.
 
Once the accounts are successfully activated, click "Manage Notifications." Options include billing, service, and miscellaneous. Click the "Service" tab to add the email or phone numbers where you want each type of notification to be send, making sure that the toggle switch is in the "on" position before tapping SAVE.
Via SmartHub Online Using A Desktop Computer
Learn how to set up outage alerts and other notifications by watching our YouTube tutorial here.

 
After creating a SmartHub account, opt to receive your electric bill only via e-mail and sign up for our Auto Pay option (either through your checking, savings or credit card account automatically each month). The rewards for going completely paperless?
Get a one-time $10 bill credit for enrolling with your bank account OR $5 for enrolling with your credit card
Help the environment by eliminating paper bills and mailed payments
Help us lower our costs by eliminating paper bills and postage
Help yourself save time and money by not having to bother worrying about paying your bills on time
Call us today to enroll in E-Bill Plus: 1-800-962-3830
SmartHub Frequently-Asked Questions
SmartHub is a tool that provides convenient account access and two-way communication to and from Midwest Electric on your computer, tablet, or via your mobile device. With SmartHub, you have the ability to do the following with just a few clicks:
Make a payment
Access payment history
Access your billing statement which can be printed
Sign up for Automated Payment
An opt out option to no longer receive printed billing statements in the mail
Sign up and receive e-mail or text alert notifications
Check our social media feeds
Notify staff of account and service issues
SmartHub is available on Android and iOS smartphones and tablets as well as on the web.
If you already use E-Bill, you can log in SmartHub using the same e-mail and password you have always used. As a new user, you can sign up here. To get started, you will be required to enter your account number, last name or business name, last 4-digits of your SSN or Fed ID, and your e-mail address. If you have any questions or need assistance, you are always welcome to contact our member service representatives at 1-800-962-3830.
The SmartHub mobile app can be downloaded and installed on any iOS and Android compatible tablet or mobile device.
The web version is accessible from any desktop or laptop device with Internet access, and allows you to register your accounts to receive notifications for account milestones approaching or a missed due date.
Both versions give you secure access to maintain your account information, view your bills, see payment history, make payments on one or more accounts and sign up for Automated Payment.
The free SmartHub app is supported on the following platforms:
iOS 3.1 and above (iPhone and/or iPad)
Android 2.1 and above (Smartphones or tablets)
Yes! All critical information is encrypted and no personal information is stored on your mobile device. Mobile devices do offer you the ability to store your login information for apps installed on the device. If you choose to store your login information, any person who has access to your mobile device can access your account.
Look for SmartHub in the Apple Store® or in the Android® Market. Search SmartHub (not case sensitive but must be all one word). If duplicates appear, the correct app is provided by our partner, National Information Solutions Cooperative.
When you open the app for the first time, you will need to select and confirm "Midwest Electric Ohio" as your utility provider. (Including "Ohio" is important, because other Midwest Electric companies exist.) You will then need to create an account by following the prompts on the screen.
No, our app is free to download and install.
No, you can take advantage of all the features of SmartHub and continue to pay your bill as you currently do.
Yes, the web home page shows all of your accounts with the amounts due and hyperlinks to other detailed information. On the app, tap the Bill and Pay icon. The total due of all accounts show and below it you can select different information by account, such as partial payment option, billing history, and payment history.
SmartHub allows you to make payments and view information on one or more accounts.
The information is shown in real-time. However, if you keep your app or the web version open for an extended period of time, you should refresh the page by selecting a new option in order to ensure the information is still current.
Notifications can only be managed on the web via the Notifications Tab. You can select your preferred notifications method which includes text, mobile push notifications, or email. If you have multiple accounts, while you are setting the notification it will prompt you to  indicate which account the notification is for.
This feature is available on the app by tapping the Map icon.