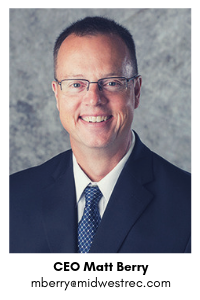 You may have heard about the rolling blackouts in California this month. The blackouts are occurring because there isn't enough electricity being generated to meet the demand. In other words, it's a shortage of electricity.
What's happening to the California electric grid could be described as a slow-motion train wreck. Hopefully, it serves as a warning and a wake up call to the rest of America.
Midwest Electric and Buckeye Power (the power supplier for Ohio's electric cooperatives) support an all-of-the-above power generation strategy that includes coal, natural gas, nuclear, hydro, wind, biogas, and solar. All of those, except nuclear, are in our portfolio. We help individual members who install their own renewable power, and we buy their excess production. We have an EnviroWatts program where you can pay as little as $2 per month to purchase renewable power without having to put the renewable equipment on your property.

Learn more about EnviroWatts and our other renewable programs HERE.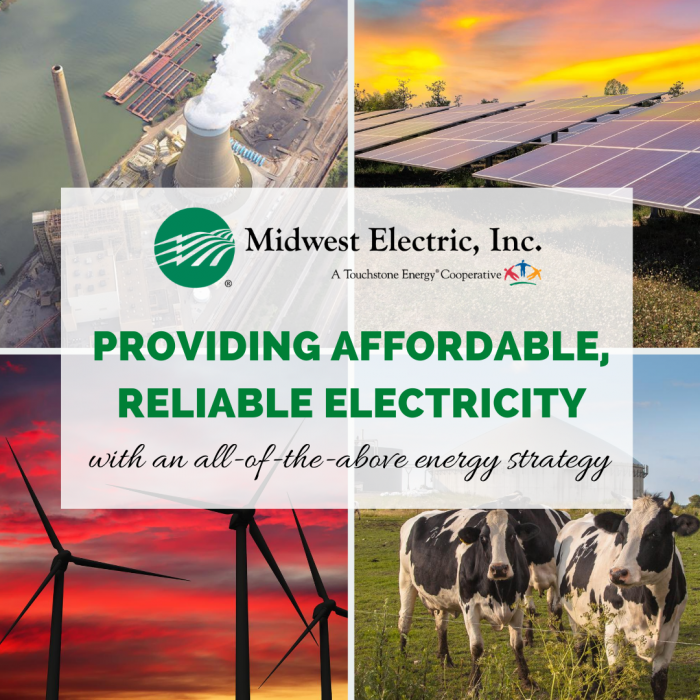 As a country, we need to continue to explore and support all forms of power generation, so we maintain a diverse portfolio of energy sources. It isn't wise to put all our eggs in one basket, whether that basket is fossil fuels or renewables. California spent the past 15 to 20 years reducing coal and natural gas-based generation, becoming increasingly reliant on renewables and imports from other states (much of which are also renewables). Californians also pay 60% more than the national average for electricity.
California was experiencing a heat wave, but one that utilities traditionally plan for by having adequate power supply capacity. That is the bare minimum of reliability planning – you must have enough generation to meet your energy demand needs. Neighboring states are also dealing with the heat wave. But only California has the blackouts, because of the state's energy policy.
If you want more details, you can learn more about California's outages HERE.
Let's learn from California's mistakes. Let's continue to develop and explore renewable technology. But we can't deny the scientific fact that renewables cannot supply power 24/7/365 in all weather conditions. Therefore, fossil fuels and nuclear power absolutely must remain a significant part of America's power mix.
Our job as an electric cooperative is to provide affordable and reliable electricity for YOU, our members. In order for it to be reliable, it must be available 24/7/365. Please help us support public policy that encourages an all-of-the-above energy strategy.
As policies change, we will be here to help keep you informed. We are your electric co-op, and we are here to power your life 24/7/365.
*Wondering how Peak Alerts fit into all this? During our Peak Alerts in July, we were never at risk of blackouts. Peak Alerts are simply about saving money during the more expensive peak times. Those savings are then passed on to our members.