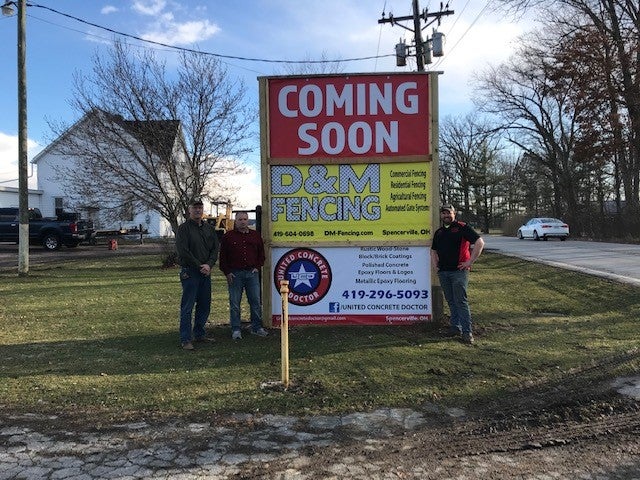 Story by Midwest Electric member Donald Wiechart




Previously ran in 

Spencerville Journal News (March 2020) and the Delphos Daily Herald (April 2020)
Many of you here locally that travel on State Route 66 on the way to Delphos may have seen this sign recently and are curious what's up. Well, the business that was formerly there (Rural Iron Works) whose owners were my brothers, Bill and Jack Wiechart, and which was formerly owned by our Dad and Mom, Jim and Helen Wiechart, who purchased it from his parents, John and Mary Wiechart, has recently been purchased by Matt Wirth.  
Now the previous owners aren't retiring off into the sunset. Brother Bill Wiechart recently took a maintenance job in Van Wert at the Marsh Foundation and Jack Wiechart will be operating a business from his home west of Van Wert installing flag poles.
The new business or should I say businesses are: D and M Fencing, owned by Doug and Matt, and United Concrete Doctor owned solely by Matt. Now, the Wirth's started their businesses in 2012 and they do much of the same work that the Wiechart brothers did, but they also do other things as well.
If you're interested in finding all that they do, feel free to peruse their websites, Facebook pages, or send them an email, text or simply call them like we did in years previous.
D&M Fencing:
Phone: 419-604-0698
Webiste: DM-Fencing.com
Email: MATT@DM-FENCING.COM
Facebook page: D&M Fencing
United Concrete Doctor:
Phone: 419-296-5093
Website: unitedconcretedoctor.com
Email: unitedconcretedoctor@gmail.com
Facebook page: United Concrete Doctor
Best of luck Matt and to the entire Wirth family who has been working hard to make their dreams a reality and also best wishes to an enjoyable and profitable businesses in the days, months and many years ahead.