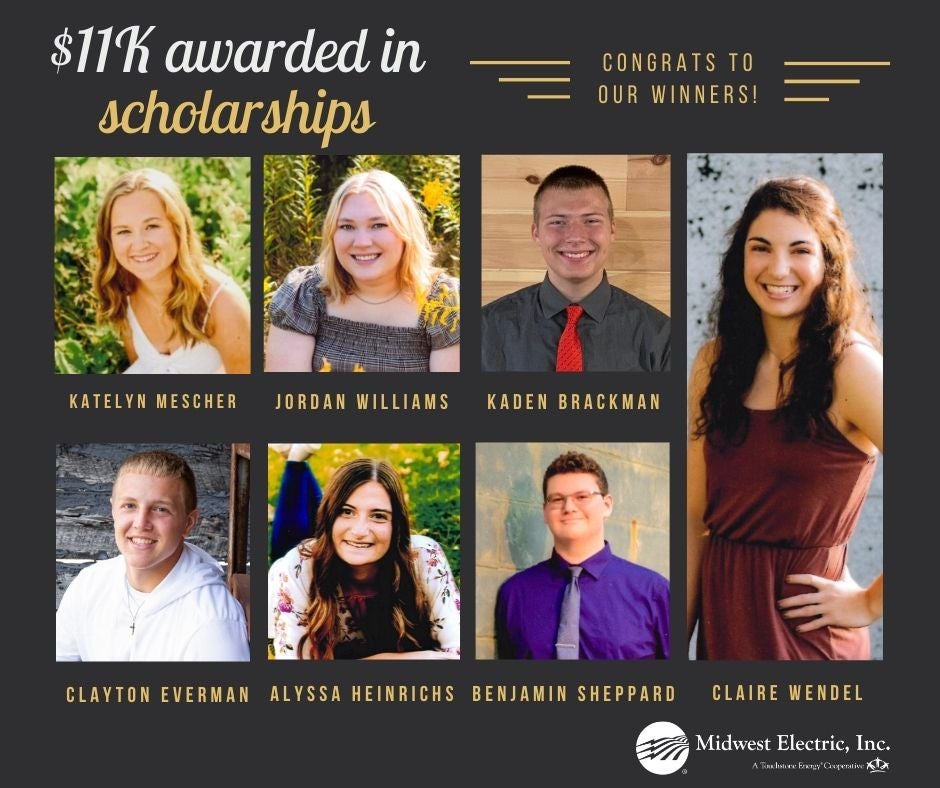 Six area high school seniors each received a $1,500 Children of Members Scholarship from Midwest Electric. Let us introduce you to our hardworking winners:

Alyssa Heinrichs, Fort Recovery High School: Her school activities include cross country, Spanish club, and national honor society. She also participates in 4H and her church youth group. Alyssa will be attending Muskingum University and will major in Early Childhood Education.
Jordan Williams, Wapakoneta High School: At school, she participates in Esports, symphonic band, marching band, drumline, and volleyball. She plans on attending Miami University and will major in Communication and Design.
Katelyn Mescher, Marion Local High School: Her school activities include swim team and Skills USA. Outside of school, she participates in the Sewer and Growers 4-H Club, Catholic Youth Organization (CYO), and Fellowship of Christian Athletes (FCA). Katelyn will study Biology/Pre-Med at Bowling Green State University.
Benjamin Sheppard, Parkway High School: Benjamin is in the marching and concert bands, ASBDA honors band, national honor society, and does K-12 productions for school musicals and plays. He is active in his church youth group and has been a cub scout and boy scout. He will study Engineering at Wright State University Lake Campus.
Clayton Everman, St. Henry High School: While in high school, he has played football, basketball, and baseball. He is also a national honor society and the science club member. Clayton also helps out at his church. He has been a coach of youth flag football and youth baseball camp.  He will attend The Ohio State University and study Optometry.
Kaden Brackman, St. Marys Memorial High School: Kaden is a four-year member of FFA, student council, and scholastic bowl. He is also a member of the National Honors Society and played football. When not at school, Kaden participates in 4-H, CYO basketball, and is a bible school volunteer. He will major in Agribusiness at Wilmington College.
Following brief interviews, Alyssa Heinrichs was selected to compete for additional scholarships from Ohio's Electric Cooperatives during the statewide competition in Columbus.
The $2,000 Touchstone Energy Achievement Scholarship winner was Claire Wendel from St. Henry High School. Claire is a three-sport athlete participating in volleyball, basketball, and softball. She is also a member of National Honor Society. Outside of school, she is active in her church youth group, OFEA, and a Project Everybody Ambassador. She will attend James A. Rhodes State College and major in Accounting.
We are proud of all our winners and applicants for their hard work and wish them the best in all their future endeavors!