Midwest Electric recently donated $12,450 to 17 west-central Ohio charities and community projects through the cooperative's Community Connection Fund.
Since the program started in 1998, the Midwest Electric Community Connection Fund has provided $1,053,039 to 879 area projects.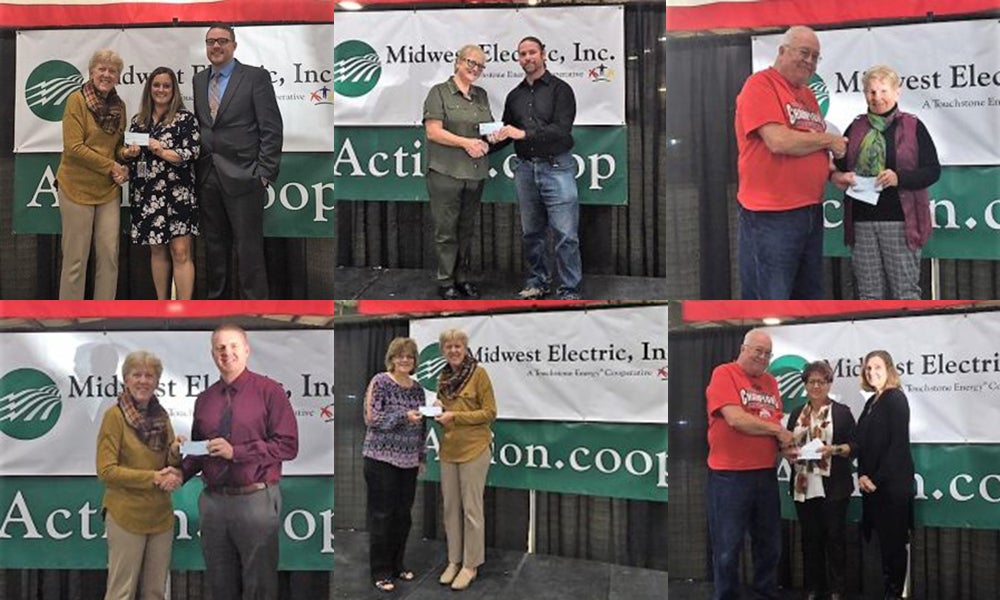 The latest recipients of grants include:
Anthony Dinner Theater; $1,500 to assist families with medical bills
Children's Dev. Center of Lima; $1,200 to purchase two laptops
Choosing Life Pregnancy Center, Celina; $1,000 toward a vehicle
Foundations of Behavioral Health, Celina; $1,000 toward a mini retreat for drug prevention
Our Home Resource Center, Celina; $1,000 to purchase and install new flooring in the kitchen and hallway
Children's Hometown Holiday, Wapakoneta; $750 to rent portable ice skating rink
Legacy Park Project, Cridersville; $750 to purchase six new lamp posts for park
Mercer County Cancer Association; $750 to purchase a new computer
Van Wert YMCA; $500 for two AED defibrillators
Delphos Community Christmas Project; $500 for toys, clothes, and coats for kids
Big Brothers Big Sisters (Mercer and Auglaize counties); $500 for lunch club program at St. Marys and Coldwater schools
Wapakoneta High School; $500 for additional funding for teachers to assist at-risk students
Village of Ft. Recovery; $500 to replace entrance sign to park
Gospel Tent of Lima; $500 for gospel singing groups at Allen County Fair
First Tech Challenge, Coldwater High School; $500 to fund FIRST Tech STEM robotics program
SM City Schools; $500 to purchase sensory supplies for students
Serving Friends and Families Ministry, Celina; $500 toward renovations on a home used as a temporary family shelter
The Midwest Electric Community Connection Fund is a voluntary charitable program. Participating members' monthly electric bills are rounded up to the next dollar, with the additional pennies deposited in the Fund. A Board of Trustees, composed of cooperative members and separate from the Midwest Electric Board of Trustees, oversees the application and allocation process.
Individuals or organizations can obtain an application here or by calling us at 419-394-4110 or 1-800-962-3830.