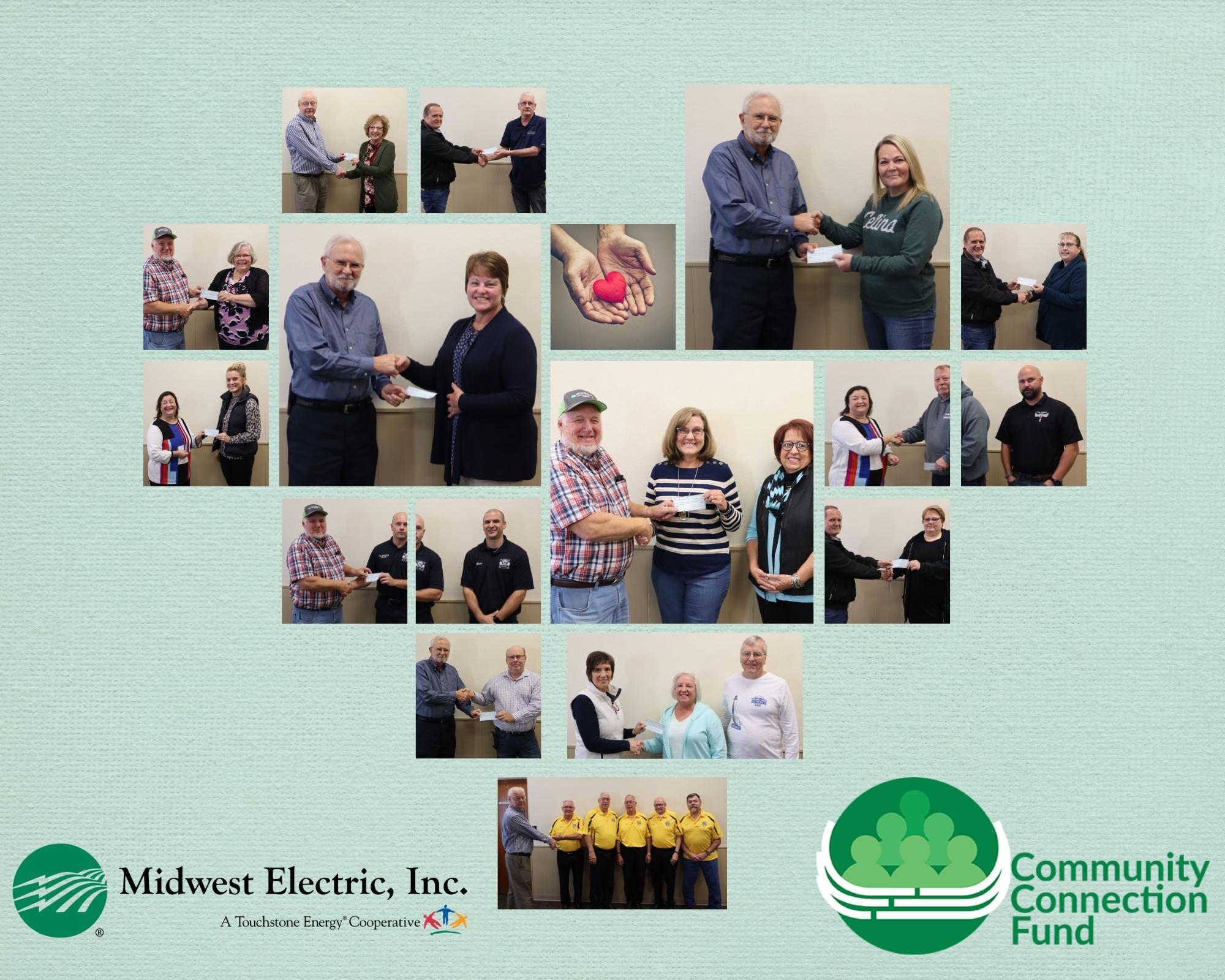 Midwest Electric recently donated $15,880 to 18 west-central Ohio charities and community projects through the cooperative's Community Connection Fund.
Thanks to the 89% of members who round up their electric bill and donate to this fund, Midwest Electric has provided $1,229,094 to 1023 local charitable causes since 1998.
The latest recipients of grants include:
Maria Stein Shrine of the Holy Relics

, Mercer County; $900 to purchase and install a digital keypad access control door lock.

Mercer County Emergency Response Volunteers (MCERV)

, Mercer County; $1,700 to purchase additional emergency pagers.

St. Anthony Dinner Theater

, Mercer County; $1,000 to sponsor and support families with medical needs.

MAV Youth Mentoring

, Mercer County; $510 to upgrade an outdated laptop for the site-based coordinator.

Restoration Counseling Center

, Mercer County; $1,500 upgrade the phone system and purchase additional computers.

Celina Band Boosters

, Mercer County; $400 to help purchase new marching band uniforms.

Community Action Lifeline

, Mercer County; $1,000 to make repairs and safety upgrades to their walk-in refrigerator/freezer.

Marathon IX: Tri Star Eternal Scholarships

, Mercer County; $500 to

fund an endowed scholarship for Tri Star students.

Wapakoneta Fire Department

, Auglaize County; $870 to purchase two vacuum mattresses for spine stabilization in the ambulances.

Cancer Association of Auglaize County

, Auglaize County, $1,000 to purchase a computer, software, tables, and air filters.

German Protestant Cemetery

, Auglaize County; $1,000 to stabilize and reset gravestones in the cemetery.

Arts Place, Inc.

, Auglaize County; $1,000

to replace the flooring at the Auglaize/Mercer art center in St. Marys.

Vietnam Veterans of America, Michael D. Armstrong Chapter

, Auglaize County; $1,000 towards the construction of "The Gold Star Family Memorial" in downtown Wapakoneta.

S.O.S. Project

, Allen County; $500 to

assist veterans in need in Lima and surrounding counties.

Delphos Community Christmas Project

, Allen County; $500

to

purchase items to provide a happy Christmas for families in need in the Delphos school district.

Voices of Prosperity, Inc.

, Allen County; $500 to purchase printed marketing and ad materials and supplies for workshops.

Specialized Alternatives for Families and Youth of Ohio, Inc (SAFY of Ohio) - Youth Drop-In Center

, Allen County; $1,000 to provide a refuge for youth who may not feel safe at home and to provide support, guidance, and opportunities to youth.

Autism Life Center

, Allen County; $1,000 to purchase items to build autism safety kits to be given to families with autistic children.
The Midwest Electric Community Connection Fund is a voluntary charitable program.  Participating members monthly electric bills are rounded up to the next dollar, with the additional pennies deposited in the Fund.  A Board of Trustees, composed of cooperative members and separate from the Midwest Electric Board of Trustees, oversees the application and allocation process.
Individuals or organizations can obtain an application by contacting Midwest Electric at 1-800-962-3830 or visiting midwestrec.com/community-connection-fund.
View an album of all the recipients on our Facebook page.