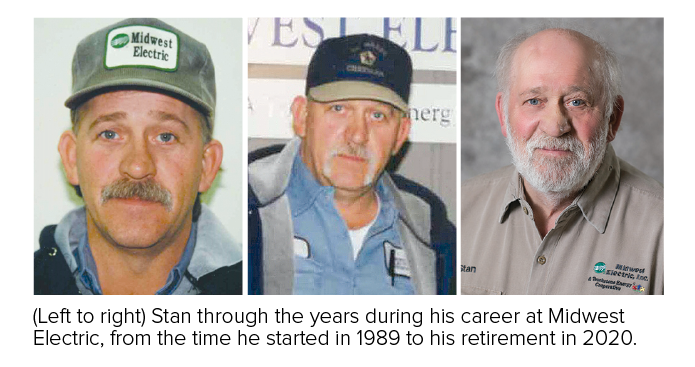 Tell us about your home and family:
I was born in Arkansas but moved to Ohio soon after. Cindy and I both grew up in St. Marys and recently moved to Wapakoneta. We have three sons: Joshua (Cathaline), Justin (Audrey), and Jeff (Jacklyn). Raising three boys was a wonderful experience filled with awesome memories. We are proud of the men they have become. We have five grandchildren: Dane (22 years), Rhett (14 years), Evelyn (12 years), Ollie (12 years), and Ryen (10 years). Grandkids are the icing on the cake of life. We just got two female dogs (sisters) about six months ago, after not having pets for twenty years. We named them Phoebe and Roxy.

What's your favorite part of your job?
Never quite knowing what's coming next. There's always something new to learn about or try to figure out.

Why did you want to work for Midwest Electric?
I started at Midwest on June 5, 1989, after working for Time Warner Cable for ten years and Goodyear for six years before that. I heard that Midwest had an opening from Ernie Neubauer, so I put my application in. I started as a groundsman and then was in the apprentice lineman program. The meter technician position opened up at the start of my fourth year in the apprentice program, which I applied for and got, due to the retirement of Dutch Nevergall. (The meter technician job was recently renamed engineering technician to reflect the expanded impact our advanced metering system has had on our operations.)
"Stan has been a primary leader of our automated metering infrastructure (AMI) project, which has provided countless benefits to our members in terms of monthly meter readings and detailed electric use data available online. And with AMI, our meters are now tied directly to our mapping and outage management systems, which helps in our power restoration efforts during outages. It's been one of the biggest, most influential projects in our history, and Stan is at the heart and soul of it."      

– CEO Matt Berry

What will you miss most?
I'll miss all the people I've come to think of as family. We are close at the co-op. 


What's your biggest takeaway from your career?
I think the greatest thing I'll take from this job is the satisfaction that I was a part of something really great. Midwest is the most service-oriented business I've ever known or been a part of.

How do you plan on spending time in retirement? 
I'm setting up a woodworking shop to keep me occupied after I retire. Cindy and the dogs and I are planning to rent an RV and see some sites.