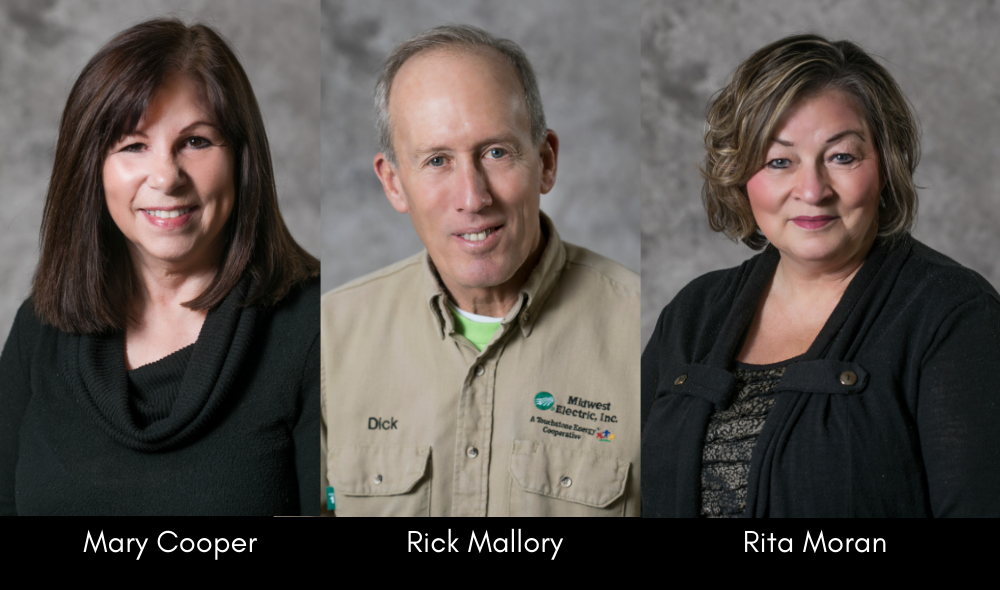 Watch the full interview here: https://www.youtube.com/watch?v=SGRz966r6Qc&t=209s
Gone are the days when one employee spends their entire career at a single company. The median number of years that employees have worked for their current employer is currently 4.6 years, according to an Economic News Release from the Bureau of Labor Statistics.

But for these Midwest Electric employees retiring in 2019, their stories are dramatically different. Together, they've accumulated nearly 95 years of service with the cooperative — and they wouldn't change a single thing.


RITA MORAN, 61
Years with Midwest Electric: 30 
Resides In: St. Marys with husband, Wade
Word that sums up her career: Engaging

Rita Moran wanted a job with the local cooperative so badly that she applied twice: once in 1976 after finishing a post-high-school secretarial program in Fort Wayne, and then again after spending around a decade working for various St. Marys city utilities. Her lucky day came in April of 1989 when there was an opening, and she hasn't looked back since.

But her job — and all positions at the co-op — haven't been without a learning curve.

"First starting at Midwest, everyone had their own specific job duties," Moran says. "If you were sick or on vacation, a lot of things had to pile up and wait. So managers created what we call our Call Center. Everyone is trained to do almost everything, so it doesn't matter if you have a family issue come up. That's been a lot of learning, but it makes the job non-routine and challenging, which I like."

Moran's personal life followed her career ups and downs, as she recalls Midwest Electric being there through the roller coaster of her last 30 years — the fear during her son Lucas's leukemia diagnosis, followed by the anguish and dark days after his passing in 1996, and then the elation of becoming a grandmother, seeing her tiny grandsons in those blue hospital blankets wrap their fingers around hers (one even named after Lucas).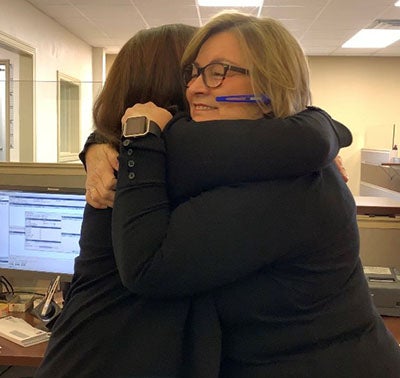 What stands out most to Moran is how dramatically technology has transformed every aspect of her job, from the unfathomable internet and email communication to automated, time-saving software.

"We used to type letters with carbon paper, and then filing — oh the filing!" Moran recalls, looking up to the ceiling in awe. "I'm so thankful for Document Vault.  When we changed in 1995 to CADP software it was such an amazing experience.  I loved every minute learning this new system and what it could do."

If there's one thing Moran has learned, it's that every aspect of life must be embraced. "Change can be scary but can be so worth the benefits," she says. "I'm ready for this next chapter of life."

For Moran, retirement will be a huge change. Her to-do list includes learning a new language and starting a painting and yoga class.

We can picture her now: yoga mat sticking out of her backpack, a paintbrush between her teeth, and Rosetta Stone playing in the background. Of course, she's smiling, eyes twinkling behind those black-rimmed glasses.
 
RICK MALLORY, 63
Years with Midwest Electric: 40
Resides In: St. Marys with wife, Elaine
Word that sums up his career: Caring

How do you know you were meant to be a lineman? According to Rick Mallory, there are simple clues.

"I was always fascinated with electricity, even as a kid. Growing up, my dad would let me practice wiring, then look at my handiwork and say, 'Son, that's why they make fuses and breakers.' I knew I had so much to learn, and by the time I was 18, I had read every book I could get my hands on about electricity at the library," Mallory said, a grin working its way across his face. "Little did I know how much more I would eventually learn."

Fast forward years later: Mallory, 23, found himself working for Goodyear Tire during 1979's recession. Newly married with one child and another on the way, Mallory was laid off and found himself in dire straits. Just weeks before Christmas, he was hired at Midwest Electric by former Operations Manager Ernie Neubauer.

"I got the job because I was one of three candidates who, when asked if we would return to the local Good Year plant, was the only one who said no," Mallory says. "In fact, I told Mr. Neubauer 'If you hire me, I'll work 40 years for you.' And I kept my word. Crazy enough, here I am." 

Simple as it sounds, helping members with their electric problems has been Mallory's greatest pleasure. Working for Midwest Electric taught him the true meaning of the word cooperative: "working with each other toward a common goal to make our lives safer and easier with electricity."

"My favorite part of being a lineman is turning the lights on at night after a storm… there's just no feeling like it in the world," Mallory says, shaking his head.

But the head-shaking doesn't stop there. It's hard for him to grasp how communication with members has improved tenfold since he started — from the days of members sending in letters to report outages to today's smart meters, which identify electric problems in seconds and allow crews to fix problems members aren't even aware of.

"Midwest Electric continually pushes forward with innovations to secure a solid future for our employees and the members we serve," Mallory says. "I wish the public could see how hard we strive to make this company work for the betterment of all on a daily basis — not just for our members but for our communities we live in as well." 

Mallory's birth name is Richard, but he has many names in the community, depending who you ask: Rick-O, Dick, Ricky, or even Duck (it's a long and humorous childhood story, but ask him if you get a chance). Regardless of what you call him, he has just one thing to say to members before he takes off to travel the United States in retirement.

"Thank you to all our members for the privilege of working for you; it has been a real joy!" he says.  "I'm also grateful for the linemen I worked under when I began here almost 40 years ago. They were all great inspiration and taught me well." 

We extend a hand to Rick-O, too; thanks for all you've taught the next generation of our linemen.
MARY COOPER, 63
Years with Midwest Electric: 25
Resides In: St. Marys with husband, John
Word that sums up her career: Family

Your hairdresser is the last person you expect to change your life. But that's exactly what happened to Mary Cooper in 1993. While snipping Cooper's hair, the stylist conversed about how well Midwest Electric treats their employees — the company where her brother worked.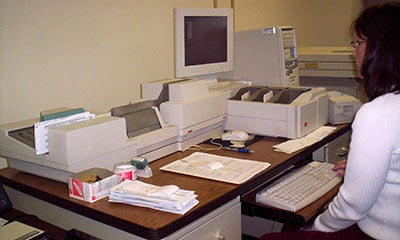 Those magic words turned out to be true, as Cooper soon discovered after leaving her job at Minster State Bank. But the co-op world was different in other ways, too.

"The camaraderie here is incredible," Cooper says. "Everyone here is very close and cares a lot. We're like a big family."
Cooper needed that 'family' support throughout her career — literal support — especially after a hip replacement from a hoverboard accident with her granddaughter and a torn foot ligament after taking a tumble down her basement steps. Looking down at her foot, her walking brace tells a story, but her tenacious attitude and ability to laugh at herself is what you notice first. 

"I have my share of funny stories," Cooper says, trying to decide which memory to share. "One time, I accidentally locked a co-worker in the vault and shut off the light. I didn't know it until they were banging on the door to get out."

In all seriousness, Cooper admits her career with the co-op has been an amazing journey to reflect on, and even now, it's tough to distinguish her personal life from her co-op life. The technological upgrades she's witnessed still blow her mind, as she recalls "the dark days" of having only monitors with no internet and performing entry-level work. She even demonstrates the muscle-building cranking motion required to use the huge, outdated back-up disks.  

"We've come a long way," Cooper says, nodding her head. "Midwest Electric truly cares about their employees — and members — and I wish more people could see that."

With three grown children, multiple grandkids, and a golf 101 learning schedule on the books, Cooper will be a busy bee in retirement — buzzing around gardening that is. If you can catch her during one of her four-mile walks, ask her how she's doing. Chances are, she's living the dream right now.

Watch Mary, Rita, and Rick's interview here on YouTube.

Note: Mary Cooper retired from Midwest Electric in January 2019, Rick Mallory retired in April 2019, and Rita Moran expects to retire in July 2019. Midwest Electric will miss all of them dearly and congratulates them for the thousands of hours they put in on the job!