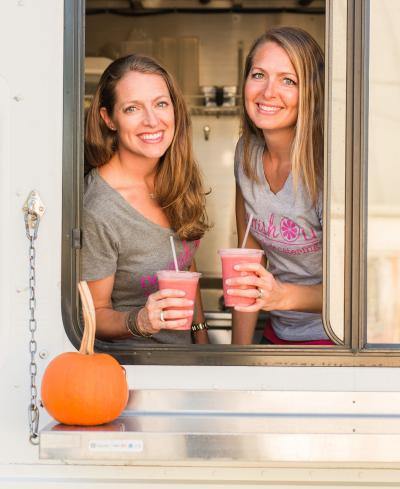 Midwest Electric recently made a small business loan to a new café opening soon in the Wapakoneta YMCA called Nourish u. The low-interest loan was provided through the co-op's Revolving Loan Fund, which aims to support local businesses and empower the community.
Nourish u was founded in 2013 by Wapakoneta natives Melissa Metz & Alisha Frost – sisters, mothers, and Midwest Electric members on a mission to bring healthy options to their community. They believe in sharing the importance of making great food choices and using non-toxic home and personal care products.
"Nourish u was born from a cancer diagnosis," Alisha said. "I was diagnosed with cancer in 2010 and began a journey of learning and healing. I was frustrated by what I learned and the lack of available organic and plant-based options locally after moving back home to the area after diagnosis. This gave me and my sister a mission and passion to educate on both of our health journeys."
Nourish u started as both a food truck and a catering company, but the sisters are hoping that with this loan, they can focus primarily on opening the café. Their tentative menu includes smoothies, salads, veggie bowls, and TLT sandwiches (like a BLT but with avocado and tempeh instead of bacon), as well as chocolate peanut butter oat and date protein bites – their specialty.
"We are very grateful for this loan from Midwest Electric, especially the low-interest rate," Alisha said. "It has allowed us to purchase new equipment for the space and keep our start-up expenses low."
Only 15 months apart in age, Alisha and Melissa are both passionate about teaching their children responsibility and hard work, which shines through in their business. Their motto is, "When we feel better, we can do better."
"Our goal is to provide nutrient-dense, quality, flavorful menu items. We will never allow artificial food dyes or synthetic ingredients and will source organically grown or local ingredients whenever possible to help give back."
To learn more about Nourish u or to see a full menu, visit www.nourishu.net or call 864-320-8434. Melissa and Alisha expect the café to open in the Wapakoneta YMCA in September 2020. Watch their Facebook page HERE for updates and business hours.
What's the Revolving Loan Fund?
Midwest Electric's Revolving Loan Fund features a competitive interest rate for job creation projects in rural west central Ohio. Minimum loan is $5,000; the maximum depends on the amount of available funds at the time of the request. The project must have a minimum of 10% equity infusion. Other requirements apply. Call 800-962-3830 for more information or a free pre-application.