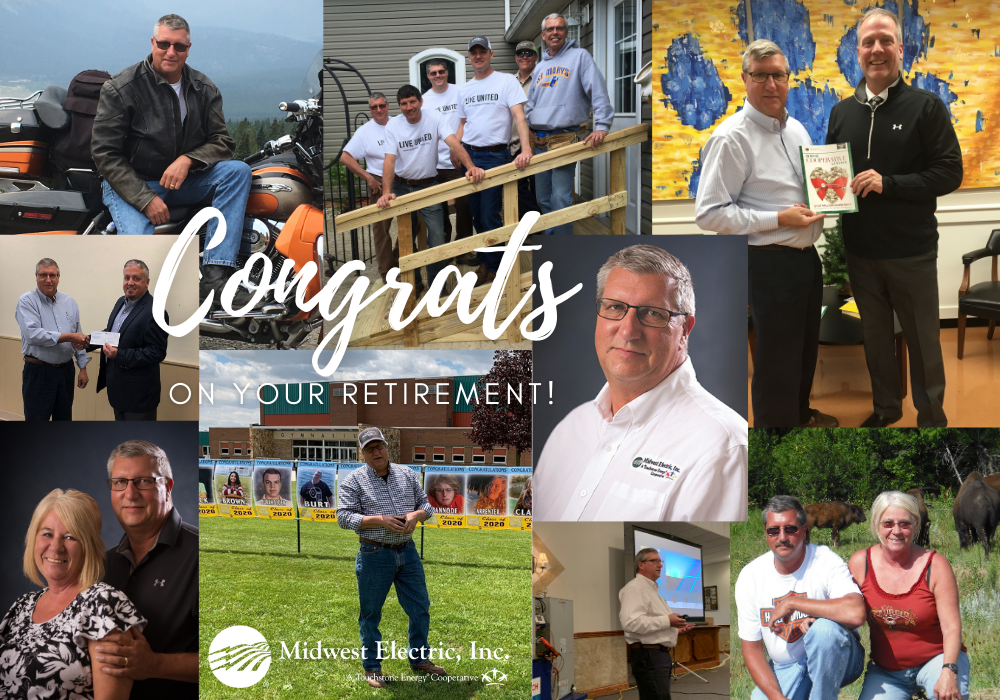 Business Development Coordinator David ("Dave") Waltermire has been with Midwest Electric for 29 years. He is retiring on Feb. 19, 2021. Though we will miss him dearly, we wish Dave all the best in this next chapter of life. Below is a Q&A with Dave to celebrate his 29 years of dedication to the cooperative.
Tell us about your home and family:
My wife, Rhonda, and I have been married for 25 years and live in a rural setting outside of New Knoxville. We have five children and five grandchildren, two of which live in Texas and three in Toledo. Our dog's name is Smokey.
Why did you want to work for Midwest Electric?
I started in May of 1992. I was previously employed in the HVAC industry but had a knee injury and decided on a career change. The position opened at Midwest Electric requiring knowledge of HVAC and electrical controls, so the perfect opportunity opened for me.  At the time of hire, I was unaware of the service territory or complexities of Midwest Electric and the cooperative business model. As my position and responsibilities changed over 28 years, I have had an opportunity to make an impact on energy and cost savings to thousands of Midwest members.

What's your favorite part of your job?
Helping members with unanswered questions. Literally anything can come up during a phone call or site visit, ranging from helping a young couple renting a 120-year-old farmhouse find ways to conserve energy to working with our local government officials on an application for a grant to promote economic development. 

What will you miss most?
Interaction with the members and the other co-op employees. The Midwest employees have a very strong commitment to the organization and the members we serve. It does not matter whether it is our line crew working through an outage, the call center assisting members with questions, or the staff directing the path and integrity of the cooperative; every employee is working for the member's best interest. 

What's your biggest takeaway from your career?
I like to share the story to high school students or young adults to get out there and strive to do better, set goals, exceed them, and then set new ones. An old buddy of mine told me, "There are no problems... only solutions." I was told this over 40 years ago and still believe in it. Whether it's in work, life, or relationships, it still applies.

What's your biggest accomplishment?
For Midwest, probably starting the commercial Off-Peak electric program. Around my second year, I started a program for peak savings with our commercial and large agricultural accounts, which gave them the ability to shut down or run generators during certain times of the year. This saved millions of dollars in avoided power costs to Midwest Electric and its members.

How do you plan on spending time in retirement? 
It will be a mixture of work and play. We plan on some winter months in Florida or Arizona with spring and fall in Texas to visit family and grandchildren. Then summers back here in Ohio to visit family, friends, and go to a few dirt track races. I plan on doing some energy consulting and small side jobs to keep busy.  I previously traveled the (48) U.S. states on motorcycle and would like to return to many of the places we visited for an extended stay. Travels will be with my best friend and wife, Rhonda, and our dog, Smokey.