Midwest Electric recently donated $14,550 to 21 west-central Ohio charities and community projects through the cooperative's Community Connection Fund.
Thanks to the 90% of members who round up their electric bill and donate to this fund, Midwest Electric has provided $1,319,569 to 1,111 local charitable causes since 1998.
The latest recipients of grants include:
Southern Mercer County Joint Ambulance District, $1,000 to purchase carbon monoxide detectors for first responders.
St. Henry CCD, $500 to purchase a new computer.
St. Henry Volunteer Fire Department, $1,350 to upgrade the lighting at the fire station.
C.A.L.L. Ministries, $500 to provide weekend meals for elementary students.
Family Care Options, $500 for upgrades to the respite home.
Crossroads Crisis Center, $500 to purchase items for domestic violence survivors.
Lima's Samaritan House, $700 for building improvements.
Northwest Ohio Literacy Council, $750 to purchase and install a new exterior office door.
West Ohio Food Bank, $500 to purchase food for neighbors in need.
Allen County Sheriff's Office, $1,850 to purchase load bearing belt-vests.
Marion Township Police Department, $1,000 to purchase MARCS radios.
Putnam Pet Pals, $250 for the stray cat sterilization program.
Auglaize County Public District Library, $500 to purchase a Lite-Brite learning wall.
Children's Hunger Alliance, $500 to provide weekend meal boxes for elementary students.
Miami Valley Down Syndrome Association, $500 to support the Walk Your Socks Off for Down Syndrome.
Auglaize County Fair Gospel Tent, $300 to pay for gospel groups at the Auglaize County Fair.
Cozy Cabin Quilters, $500 to purchase fabric, batting, and thread to make charitable quilts.
Middle Point Volunteer Fire Department, $1,350 to purchase MARCS radios.
Van Wert Area Preforming Arts Foundation, $500 to provide free tickets to the performing arts for low-moderate income families.
Van Wert Middle School, $500 for scholarships to help send students on the eighth grade Washington D.C. trip.
Y.M.C.A. of Van Wert County, $500 to purchase equipment and supplies for the after-school program.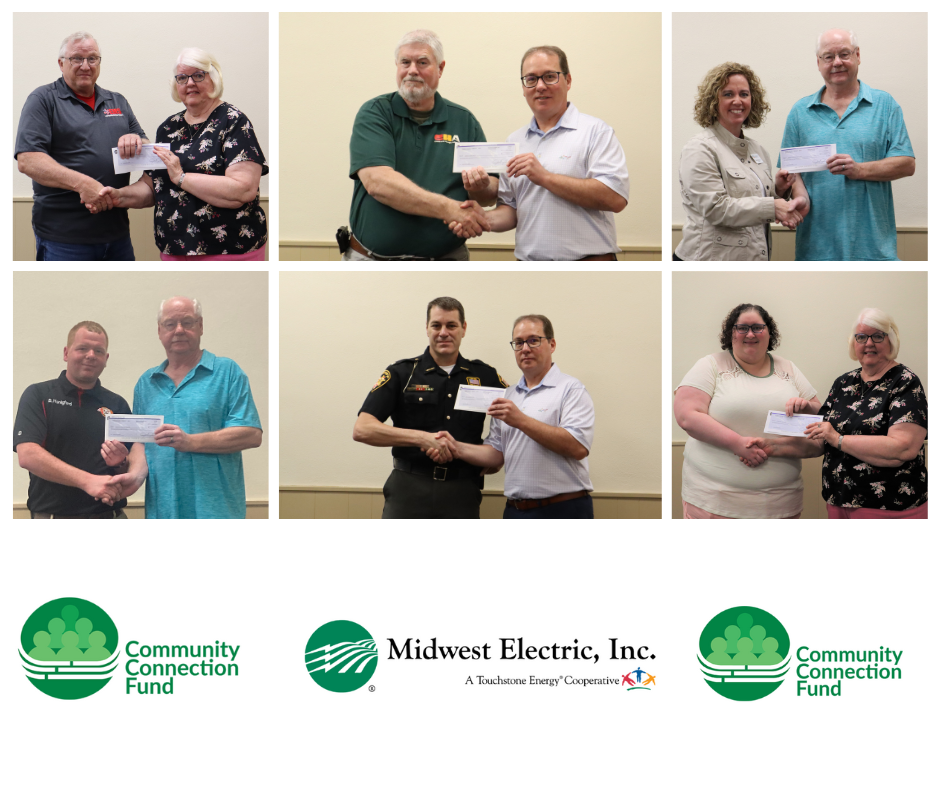 The Midwest Electric Community Connection Fund is a voluntary charitable program.  Participating members monthly electric bills are rounded up to the next dollar, with the additional pennies deposited in the Fund.  A Board of Trustees, composed of nine cooperative members and separate from the Midwest Electric Board of Trustees, oversee the application and allocation process.
Individuals or organizations can obtain an application by contacting Midwest Electric at 1-800-962-3830 or visiting midwestrec.com/community-connection-fund.