The Board of Directors, based on recommendations from management, has approved a 9% rate increase to take effect starting with the electric bill you'll receive at the end of September. On Saturday morning, June 3, please plan to attend our annual meeting, where I'll discuss the increase in greater detail. If you are unable to attend, you can watch the live stream as it happens or the recording of the meeting that will be posted afterward.  
Click here for the detailed break-out of the rates and how it will impact your bill.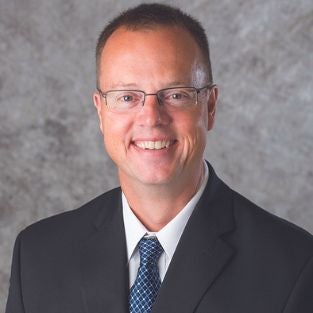 While it's an overall 8% increase between commercial and residential accounts, different customer groups will see different impacts. Our residential rates will increase 9%, and our commercial rates will increase 2% from current rates. This is based on cost-of-service studies, which provide detailed information on what it costs us to make service available to different customer groups. The costs are then compared to what we're currently charging each group.
A primary goal of electric rate design is to limit or reduce the subsidies that occur between different rate groups. We don't want one group of customers (e.g., commercial) paying more than what it actually costs us to make service available, just so another group of customers (e.g., residential) can pay less than the cost of service. This rate change will help to limit those subsidies from occurring, and ensure that each customer group pays what it actually costs the cooperative to make service available.

Within each rate group, different customers will see different levels of impact. For example, low-use residential members will see higher than a 9% increase. High-use residential members will have lower than a 9% increase. The rate is the same for all residential members, but the impact will vary. The reason for this is that most of the increase will be in the fixed monthly Service Availability charge. The Service Availability charge has been $35 per month since our last rate change in 2010. It will increase to $45 per month. The other part of your bill — the kilowatt hour (kWh) rate — is increasing only slightly, from the current average of $0.1064 per kWh, to $0.1104 per kWh.

The reason for this is that most of the costs we pay to build, operate, and maintain a reliable electric system are fixed. Whether you use 1 kWh or 1,000 kWh, we still have to build, operate, and maintain the same amount of equipment and back office support. Our actual full cost of making service available is more than $70 per month. We charge $45 in the flat fee, and the rest in the kWh rate. The kWh rate also pays for the generation and high voltage transmission of the power you consume, which is why that cost varies based on your consumption.

The same goes for our commercial and industrial members. While overall it's a 2% increase to their rates, some will see higher or lower than that based on their load factor. Load factor is a ratio of a consumer's hourly kW demand, compared to their total kWh energy use. A customer who has a very high demand, but uses relatively less kWh energy, has a poor load factor. This places higher costs on the utility, costs that are not recovered through the low use of energy. Therefore, our new commercial rates will have higher demand charges, but lower energy rates. Many of these consumers can save by changing to our off-peak commercial rate.

Even after the upcoming increase, we will continue to have the lowest rates among Ohio's 24 electric cooperatives. And our rates will still be lower than AEP and AES (DP&L). According to an April 2023 report from Buckeye Power (our wholesale power supplier), we have the lowest residential electric rates among Ohio's cooperatives. Based on our current rates, for 1,500 kWh (the average monthly residential use), our members currently pay $36 less per month than the average Ohio co-op member.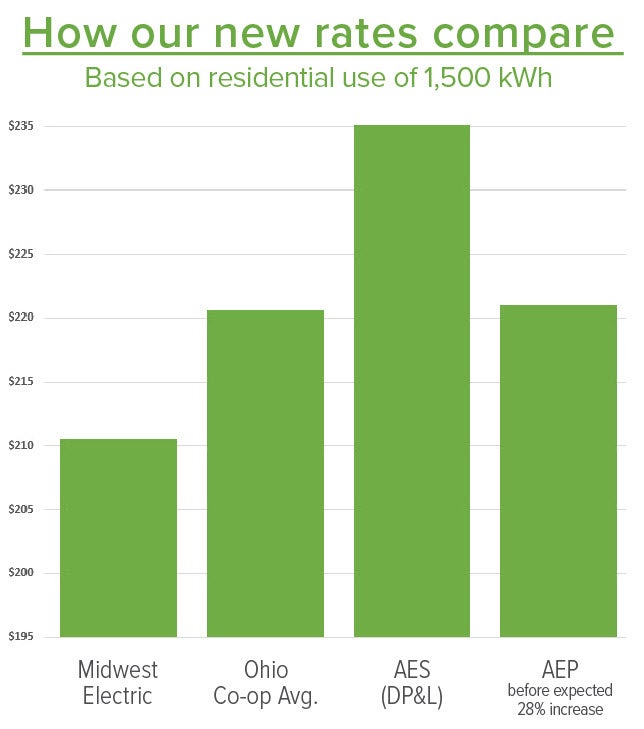 Further, according to the Buckeye Power report, which uses data from the Public Utilities Commission of Ohio, for 1,500 kWh our members currently pay $50.43 less per month than AES (DP&L). Our members currently pay $36.40 per month less than AEP — and that is before AEP's 28% rate increase starting this summer.
Our last distribution rate increase was in 2010, so this upcoming increase averages out to less than 1% per year over that timeframe.
Please let me know your questions and concerns by e-mailing me at mberry@midwestrec.com or give me a call at 800-962-3830. And please continue to take advantage of our load management programs to help us manage our power supply costs, our energy efficiency rebates, our energy audits, and our bill credits for e-bill and paperless billing.